In true Dorothy Morrison style, she would like to make it possible for two couples, who would not normally have the means, to attend the Midwest Witches Ball. As a sponsor of the ball, she was given four tickets. Since she cannot attend, she wants to give back to the Michigan community who has been so loving to her. In an effort to support both the local community and local vendors, Candle Wick Shop will be working with Dorothy to select the two couples who will receive free tickets to Midwest Witches' Ball.
So it's super easy. Just send an email to
fundraiser@candlewickshoppe.com
and nominate the couple of your choice. Make sure you include a brief overview of why you are nominating them, their contact info and ages. Midwest Witches' Ball is a 21 and over event. Nominations will be accepted between Sept 1st and Sept 30th 2016.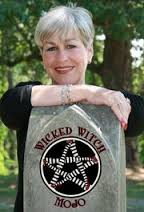 Dorothy Morrison has worked behind the scenes to sponsor many families over the years, and donates regularly to several charities including
the Wounded Warrior Project and the Fraternal Order of Police.
For Dorothy,
it's a matter of doing what's right, giving back for all the blessings she's received, and knowing that her "donations" are really going to help someone in need, rather than padding an administrator's annual bonus.
Midwest Witches' Ball has sponsored many charities including Wolf Run Wildlife and Spiritual Sanctuary, Pagans In Need, Michigan Pagan Scholarship Fund and SpiralScouts™ (Wolverine Tribe).
As Always we encourage everybody to visit the people who make it happen.