1 minute reading time
(276 words)
Sage is Back!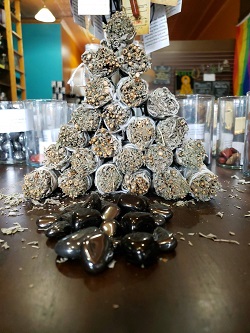 Sage bundles!
What are they? What do they do? How do I use them? Why would I use them?
The answers are simple, really.
A bundle of sage, or a smudge stick as they are known for Native American practices, is just that! A bundle of dried sage. Sometimes you can find them with other herbs tied in for different purposes, like yerba santa, roses, and basil. Today though, let's talk about straight up sage sticks.
To put it simply, the smoke of the sage cleanses an area, object, or being of all active energy. What that means is, any energy in that area will dissipate until you bring it back in. Good, bad, and neutral. I suggest that when you sage an area, you call in the good energies while casting out the bad. Also open your windows while burning any product that produces a lot of smoke like sage does. This also allows the energy to go out with the smoke. And because sage smoke smells like a burning Italian restaurant.
Now the all-important questions, why should you use the sage bundles? Have you been feeling bogged down? Like your life is in a rut? Sage will help you feel better. Not only will it make your aura energy lighter, it will make you feel like you're being productive, which you are. Over all, sage is just a good cleansing herb that everyone should use. Just remember, white sage is endangered and blue sage works just the same!
We do phone orders! Give us a call at (248)-547-2987.
Or order online at candlewickshoppe.com!
Also shop in store at 175 W 9 Mile Ferndale, Michigan
Comments
No comments made yet. Be the first to submit a comment