1 minute reading time
(254 words)
Weekly Staff Pick- Pink Himalayan Salt Lamps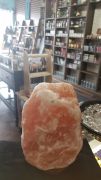 Pink Himalayan sea salt lamps! You've probably heard of them before. Everyone was talking about them not to long ago, but what is it actually meant to do? Look aesthetically pleasing? Cure all my diseases? Just make people think I'm cool and spiritually inclined?
To make a long story short, a salt lamp doesn't do much for internal medicine. At this point in history, there is no research pointing to a salt lamp curing all that ails you. What it does do, however, is help with your spiritual healing. It can help with anxiety and sleep issues because it has a calming, grounding energy. There have been studies that the low light of the salt lamp is better in the evening than the harsh overhead lights in your ceiling. The study said that going from bright lights to pitch black makes it harder to fall asleep; whereas going to a dimmer les harsh light before turning your lights out completely triggers the brain to prepare for rest.
That being said, the salt lamp grounds the energy and clears the mind: I highly recommend it for people who suffer from anxiety, depression, and ADHD. It helps with all of that for me and most of the people I asked about it.
We have them here at the shop!
Call today to order on at (248) 547-2987
Or visit us in the store located in Ferndale
175 West Nine Mile Road, Ferndale, Michigan
We also have a website! Candlwickshoppe.com
Comments
No comments made yet. Be the first to submit a comment