1 minute reading time
(230 words)
Low Energy? Feeling Discouraged? This candle combo will help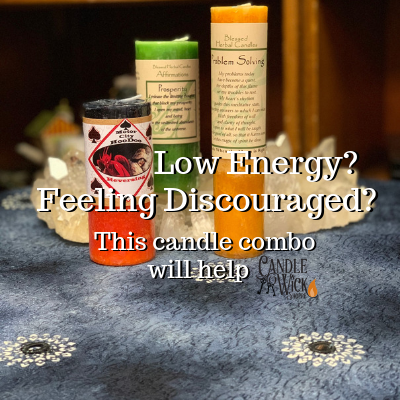 Stressors of the week April 21: Unexpected changes. Low energy, feeling confused or discouraged. Pick a candle or three to help you with how you're reacting to this week's astro-energy.
Every Week the planets journey through our solar system and impact our lives in both helpful and antagonistic ways. Coventry Creations products are here to help.
Card 1. Overcome your challenge – Problem Solving Blessed Herbal candle – For every problem there is a solution. Don't despair, put your energy into problem solving or surrender it to the higher power and watch for opportunities. They are put in your path purposefully.
Card 2. Transform fears into strength – Reversing Hoo Doo candle – Fear is misplace faith. Collect yourself and reverse your loyalties from someone's weakness or carelessness to something with real backbone. It could end up being you or your faith in a higher power.
Card 3. Create what you desire – Prosperity Affirmation candle – Prosperity starts with your willingness to give and receive. If you don't have it to give, then it's time to receive. Light this candle and open the flood gates of prosperity. Accept prosperity in every way it flows to you. Don't say no.
These candles and more Coventry products are available at the Candle Wick Shoppe in Ferndale 248-547-2987 or online at www.coventrycreations.com. Get an online reading at our online https://cmo.candlewickshoppe.com/cmo.html

Comments
No comments made yet. Be the first to submit a comment