1 minute reading time
(183 words)
Selenite!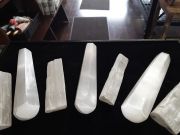 Selenite! It's a stone often considered a must have in everyone's witchy kit.
What is it and why is it so great? Selenite is a very fragile clear stone that crumbles when put under pressure, but if worked correctly it becomes a smooth strong stone. It belongs to the third eye and crown chakras, as well as the lesser known transpersonal and etheric chakras.
That was what selenite is and where it belongs. What it's good for is cleansing. The reason it's a staple for most energy based witches is because it cleanses auric and personal energy. It clears out negative energy like a champ. Selenite is often used in healing massages and reiki massages. It clears the paths in your chakra and in your life. It's a great stone to have on hand and to have with your other stones to keep their energy nice and clean.
Here at the Candle Wick Shoppe we have a couple versions!
You can find us in Ferndale at 175 W Nine Mile Road.
Or call us at (248)-547-2987
We also have a website! Candlewickshoppe.com
Comments
No comments made yet. Be the first to submit a comment