2 minutes reading time
(347 words)
Agonizing over decisions got you down?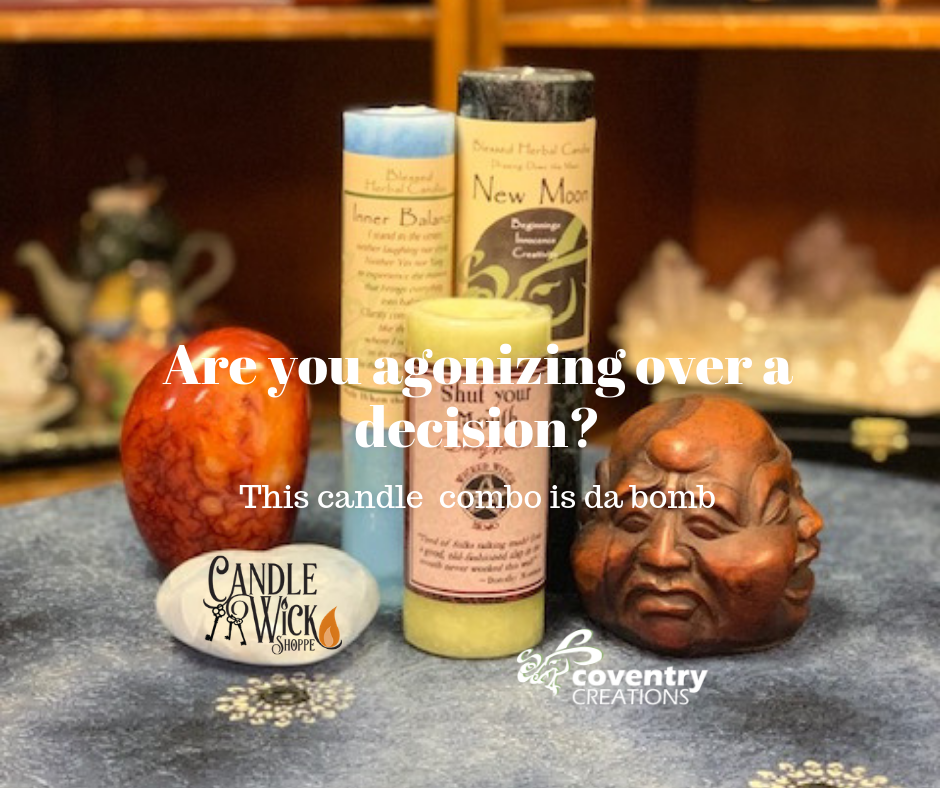 Stressors of the week April 29: Making decisions. It could be your career, your stuff, your life direction. Pick a candle or three to help you get focused, organized and decisive.
Every Week the planets journey through our solar system and impact our lives in both helpful and antagonistic ways. Coventry Creations products are here to help.
We pulled three cards from our Coventry Magic Oracle decks to get the perfect message for this week.
Card 1. Overcome your challenge – Shut your Mouth Wicked Witch Mojo candle –Listen to your heart and not the chatter of those gossiping Monkeys. It's great to get advice but ultimately you have to make your own decisions. After you have heard the good intentions of others, level the playing field by looking at all your options as equal. Which decision are you most drawn to when there are no obstacles? Burn this candle to help you shut our well meaning but bothersome overhelping from others.
Card 2. Transform fears into strength – Inner Balance – When the scales are balanced there is nothing left that needs to be healed. Indecision will create weakness and when we are weak we are scared. How do you create inner balance? You let the important elements of your life take precedent over the things that don't matter and put your focus there. Burn this candle to create harmony between your mind and emotions.
Card 3. Create what you desire – New Moon Drawing Down the Moon candle – Everything is in position for you to let go of that final painful lesson. What are you attached to? Find out why so you can make the decision that is waiting to be made. Clear the path for your new beginnings. Burn this candle to prepare the way for the next chapter in your life, be it clean closets or a new career.
These candles and more Coventry products are available at the Candle Wick Shoppe in Ferndale 248-547-2987 or online at www.candlewickshoppe.com. Get an online reading at our online Coventry Magical Oracle at http://bit.ly/CMOreading
Comments
No comments made yet. Be the first to submit a comment