2 minutes reading time
(309 words)
Conversations are tough this week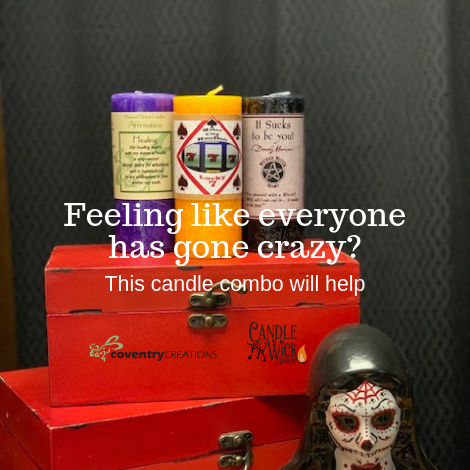 Stressors of the week May 6, 2019: Wow, communication is weird this week. Misunderstandings could rule the day if you let them. Don't escalate, count to 10 and calm down. Your working mantra this week is, be patient, compassionate and tolerant. Everyone is feeling confused.
Every Week the planets journey through our solar system and impact our lives in both helpful and antagonistic ways. Coventry Creations products are here to help.
Card 1. Overcome your challenge – Healing Affirmation –Ask for extra protection during times of stress. You are more vulnerable now. Whether you are ill or overwhelmed, it's not easy to be your best. Make sure you are cocooned in love and protection while you get back to your true self.
Card 2. Transform fears into strength – Lucky 7 Hoo Doo – Replace the black cloud over your head with one lined in silver and gold! Good fortune starts with casting out all those evil thoughts in your head. We can really misread a situation when we are confused our self. Use this candle to clear your mind and see the situation for what it really is. The truth will set you free.
Card 3. Create what you desire – It sucks to be you Wicked Witch Mojo – Get rid of crazy makers, and let them know that messing with you could seal their doom. Ok, this is a little dramatic, but standing up for your self is a powerful way to self-care. There is no reason to be a door mat when someone else can't control their emotions. Walk away from level 10 situations. When they are calm, maybe you two can talk.
These candles and more Coventry products are available at the Candle Wick Shoppe in Ferndale 248-547-2987 or online at www.candlewickshoppe.com. Get an online reading at our online Coventry Magical Oracle at http://bit.ly/CMOreading
Comments
No comments made yet. Be the first to submit a comment