2 minutes reading time
(389 words)
How to stay chill, when you just want to punch someone in the throat.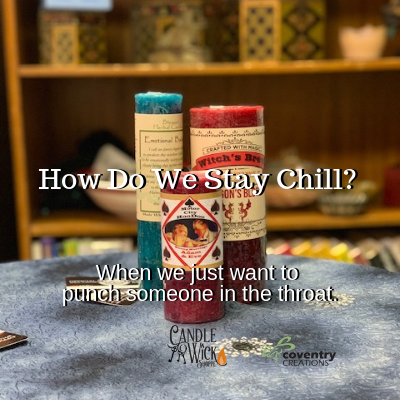 Stressors of the week May 3, 2019: How do we stay chill when we just want to punch someone in the throat? People will seem extra defensive this week, even when we are all just trying to get along and work toward a common goal. Take in the wisdom of the Coventry Oracle deck before you act.
Every Week the planets journey through our solar system and impact our lives in both helpful and antagonistic ways. Coventry Creations products are here to help.
Card 1. Overcome your challenge – Adam & Eve Hoo Doo candle –You and your partner can be closer, feelings can be deeper, and the commitment stronger when you invite love back in. Love is a verb and it is time to start acting like it. Believe it or not, how you respond to any situation is completely in you control. If your hurt emotions are driving the bus, it's time to take back the wheel. You don't have to respond to defensiveness with offensiveness. Use this candle to rekindle sweetness and compassion between you and your partner.
Card 2. Transform fears into strength – Emotional Balance Blessed Herbal candle – When you are at the end of your rope emotionally, it's tempting to just let it fly, only to regret it later. Balance the underlying emotional cause of your own defensiveness and release pent up emotions in healthy creative ways. Save yourself a ton of grief and light this candle to make sure your emotional release flows gently and in balance.
Card 3. Create what you desire – Dragons Blood World Magic candle – Amp up your charisma times ten with the help of this candle and your every wish for happiness will be returned to you. No need to let other's bad moods get you down when love is present. Nothing levels the playing field of relationships like self- love and knowing that others are loved too. It cuts right through the veneer of the bad moon, defensiveness and plain old crabbiness. Light this candle and expand your awareness of love and manifest peace, love and good luck in your life.
These candles and more Coventry products are available at the Candle Wick Shoppe in Ferndale 248-547-2987 or online at www.candlewickshoppe.com. Get an online reading at our online Coventry Magical Oracle at http://bit.ly/CMOreading
Comments
No comments made yet. Be the first to submit a comment