1 minute reading time
(285 words)
How do I get in front of the right influencers?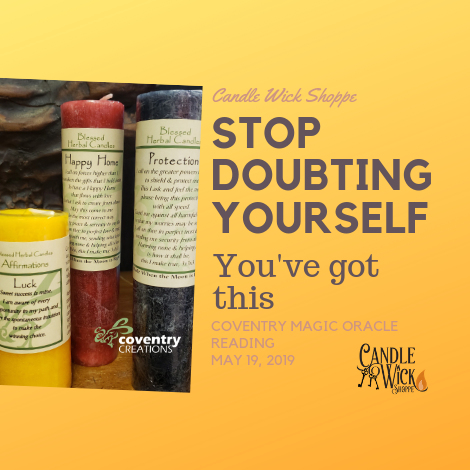 Stressors of the week May 20, 2019: How do I get in front of the right influencers in my life? This week is a great week for collaboration and getting noticed. Let's ask the Coventry Oracle deck what you need to do to get noticed.
Every Week the planets journey through our solar system and impact our lives in both helpful and antagonistic ways. Coventry Creations products are here to help.
Card 1. Overcome your challenge – Luck Affirmation – Luck is on your side this week. Your pot of gold is within reach so stop doubting yourself and get out there and network, make that call, or invite that business relationship in. You will be seen and heard and listened to.
Card 2. Transform fears into strength – Happy Home Blessed Herbal candle – Replace chaos with peace, change discord into harmony, and drive out angst with serenity. It's more of the same. Calm down and believe in yourself. You've done the work and you are ready for success. Others will see it in you too. Be confident because you have built a place for collaboration, a meeting of minds and you will be at the helm. Don't let negative self talk be the reason you missed an opportunity.
Card 3. Create what you desire – Protection – It's fun to share ideas and collaborate toward a common goal, still you need to make sure your interests are protected. It just keeps honest people honest and those who are fair and just will totally get that. Have an awesome week.
These candles and more Coventry products are available at the Candle Wick Shoppe in Ferndale 248-547-2987 or online at www.candlewickshoppe.com. Get an online reading https://cmo.candlewickshoppe.com/cmo.html
Comments
No comments made yet. Be the first to submit a comment