2 minutes reading time
(346 words)
How to stay grounded when you just want to escape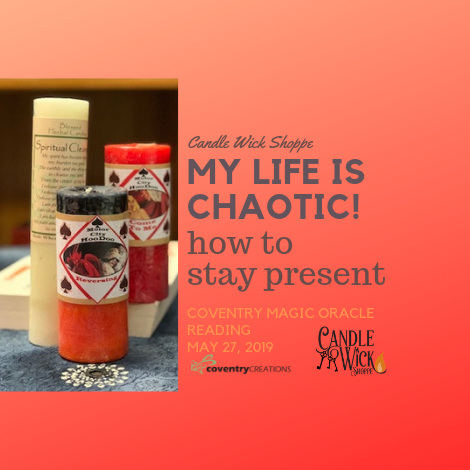 Stressors of the week May 27, 2019: How do I stay grounded in reality when all I want to do is escape? Astro energies are making it really easy to check out this week. Absolutely that's really fun, but not when you have important details to attend to and crucial decisions to make. Let's ask the Coventry Oracle deck what you need to do to stay grounded during stressful times.
Every Week the planets journey through our solar system and impact our lives in both helpful and antagonistic ways. Coventry Creations products are here to help.
Card 1. Overcome your challenge – Spiritual Cleansing Blessed Herbal Candle – There is way too much on your mind this week and the burden of it all is making living in a fantasy all too attractive. Clear your mind and emotions of extraneous negative thoughts and feels. Meditate with this candle and release all your angst into the flame so you can think again.
Card 2. Transform fears into strength – Reversing Hoo Doo Candle – Put the brakes on your worrying and fussing. Then put your situation in reverse by leveling the playing field. If all were equal, which idea, solution or opportunity shines a little brighter? Follow that light and you will execute the exact plan that will transform your to do list into a ta done list. Light this candle to help you transform your stressors into strengths.
Card 3. Create what you desire – Come to Me Hoo Doo candle – Use your charisma to get you what you want and need to make your life easier. Work smart not hard is the cliché of the week. This will not only help you stay grounded in reality, you will create a life that is more palatable and still get the trash taken out. Light this candle to remind you that you can have your cake and eat it too.
These candles and more Coventry products are available at the Candle Wick Shoppe in Ferndale 248-547-2987 or online at www.candlewickshoppe.com. Get an online reading at https://cmo.candlewickshoppe.com/cmo.html
Comments
No comments made yet. Be the first to submit a comment