2 minutes reading time
(453 words)
Why does my social life suck?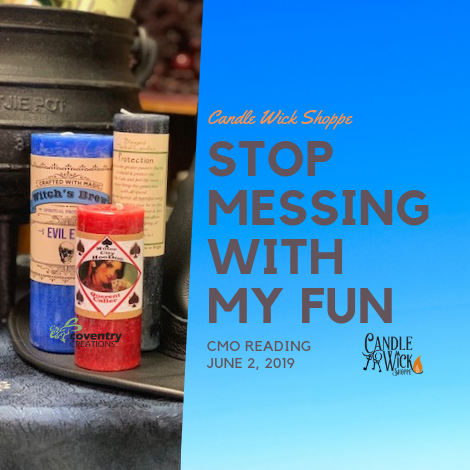 Stressors of the week June 2, 2019: How do I create more fun in my life? Oh Gemini you do inspire us to put ourselves out there, but let's face it, we can sabotage even the best laid plans. Let's ask the Coventry Oracle deck, how we can stop sabotaging our relationships and plans and have some well needed fun?
Every Week the planets journey through our solar system and impact our lives in both helpful and antagonistic ways. Coventry Creations products are here to help.
Card 1. Overcome your challenge – Evil Eye Witches Brew candle – "Make sure your love affair, friendships or plans are clear of the jealous haters that can cause damaging drama." Are you surrounding yourself with the right people? The best way for a fun evening to go south is to share it with people who worry too much, compete with you or are not in to you. Take care of you by lighting this candle and let it be your bouncer in your circle of "friends".
Card 2. Transform fears into strength – Querent Caller Hoo Doo candle – "You are the magnet for that love connection (friendships too) you are seeking. Send out the call and many will answer." If your inner voice is telling you that nobody likes you then it's time to prove it wrong. Light this candle, put on your party dress and a smile on your face and be the person you admire. Like attracts like and if you want to be liked, you have to be likeable, just don't cross the line of authenticity. This way you will attract the right people into your life.
Card 3. Create what you desire – Protection Blessed Herbal candle – "It's okay to keep a bit of yourself protected when beginning a relationship." There is good vulnerability and bad vulnerability. On the one hand you want to let people in so they can get to know you and see they are with a real person. On the other hand you have to have healthy boundaries. When you are not clear on the difference, light this protection candle and you will be cautioned when you are letting too much of your belly show. It may come as a little sting to your ego or it may re-direct a person out of your life when you are not seeing that all they want from you is EVERYTHING. Trust you are in good hands with Coventry candles and go have some fun with really cool people just like you!
These candles and more Coventry products are available at the Candle Wick Shoppe in Ferndale 248-547-2987 or online at www.candlewickshoppe.com. Get an online reading at https://cmo.candlewickshoppe.com/cmo.html
Comments
No comments made yet. Be the first to submit a comment