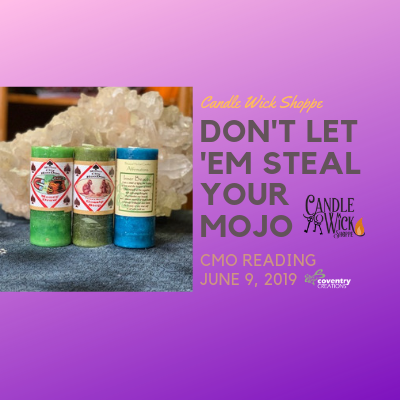 Stressors of the week June 9, 2019: What will help me accept the good things in my life? Have you ever gotten sad when things are just getting awesome and dreams are coming true? It happens. Let's ask the Coventry Oracle deck, how we can stop feeling guilty or sad and embrace the good in life?
Every Week the planets journey through our solar system and impact our lives in both helpful and antagonistic ways. Coventry Creations products are here to help.
Card 1. Overcome your challenge – Money Draw Hoo Doo candle – "Stop feeling so poor and letting your fears (or guilt) tell you there is not enough to go around." This is called poverty mentality. Did you know some very rich people struggle with fear around money and then start fearing people? Don't be like them, if you have prosperity in your life, it's because you earned it. Light the Money Draw candle to demonstrate you are a magnet for prosperity in any form. Plus the Plus the best thing to do when you are abundant is to share. Be generous and keep the energy flowing
Card 2. Transform fears into strength – Gossip Stop Hoo Doo candle – "Clear out the negative chatter that makes life toxic." Sometimes people get jealous of your good fortune. They don't see the road you traveled to acquire your new car, beautiful home or great job. Honestly what they think about you is really none of your business. Let them be and keep on feeling gratitude for what you have earned. I know you want to be loved and appreciated, but if the ones around you can't be loving, then they are not your people. Light this candle to shield you from petty conversations that are there only to bring you down. There is absolutely no good reason to be ashamed of being successful.
Card 3. Create what you desire – Inner Beauty Affirmation candle – "It's a fact that your brilliance attracts the energy that money is made of." Like attracts like and your good fortune was more than just luck. You have a beautiful soul and its working overtime to show you all the good karma you've earned. Don't worry about whether or not you deserve this boon, you have, simply because it's here. Embrace this mana from heaven and show your gratitude by making it grow, by sharing and by being happy. Invest in your future, yourself and any other worthy cause that brings you joy. Light this candle and let it refelct back to you your beautiful soul. You shine like a diamond.
These candles and more Coventry products are available at the Candle Wick Shoppe in Ferndale 248-547-2987 or online at www.candlewickshoppe.com. Get an online reading at https://cmo.candlewickshoppe.com/cmo.html