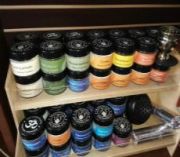 Everyone and their uncle use incense. It's nothing new, been around for thousands of years. The incense we know today are mostly stick and cone types that have lots of binders and extras in them to help stay together and stay lit.
A few months ago I was introduced to loose incense, powder incense, and resin incense. I had a hard time figuring out what to do with at first when I got my first jar. Was I supposed to just light it? No it went out too fast. Keep it out like potpourri? No, none of the scent came from it and none of its magical properties were being used just sitting there.
Then I found the accessory that went with it. Charcoal discs! They stay lit for forty-five minutes to two hours and let you use as much or as little incense as you want. All types of loose incense are made and here at the Candle Wick Shoppe we have all types from Patchouli and Dragon's Blood Resin to Love Attraction and Meditation.
Come check them out in the store at 175 W 9 Mile Road, Ferndale, Michigan.
Or order them over the phone by calling (248) 547-2987
And don't forget to check out our website! http//:www.candlewickshop.com